Hello Kitty meets Nickelback
If you know me, you can remember me with Hello Kitty. I love Hello Kitty. She's like a sort of role model (LOL) and a neutral harmonic cat in my opinion. Perfect to me: not too emo (?), not too happy.

But I never though that I could match my HK world with my Nickelback world, until today. I mean, neither with the Nickelback world, this is thanks to Avril Lavigne and her huge relationship with the Nickelback world. So it all begins.

How she did it?

First, Chad Kroeger's soon-to-be wife, likes the kitty too. Even she uses 'Hello Kitty' make up and luggage, just like me. Oh yes, how to forget a picture from the birthday party that her man did for her in Munich, the same day that 20k Nickelback fans sang 'happy birthday' to her.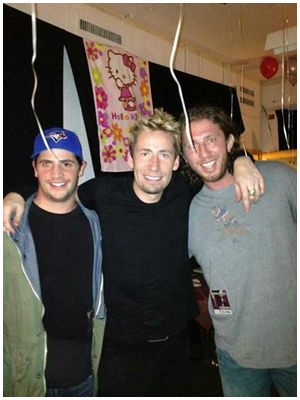 What we could say about Kroeger carrying Avril's luggage in Australia?: a beautiful Hello Kitty suitcase, and he looked happy to help his girlfriend.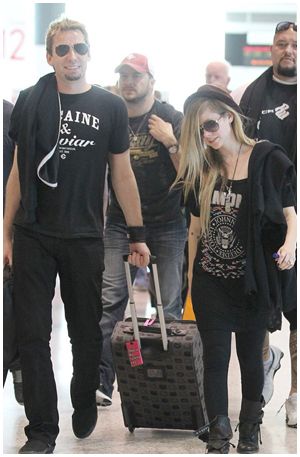 And now, after thinking in all those beautiful Hello Kitty moments that made me feel closer to Chavril, I just read that Chad wrote a song called HELLO KITTY...

... Again: he wrote a song for Avril's upcoming album called Hello Kitty in collaboration with herself and David Hodges (Evanescence ex member).

I laughed, and then I said WHAT THE HELL, just like Avril. Maybe there are a contract with Sanrio to write a jingle to promote the kitty (Whatever, she has promoted for free the kitten during years!). Oh wait! I'm just thinking like a guy from the industry. Or definitely, Avril is Hello Kitty; or well, she loves her, just a little.

You know? I'm a Hello Kitty fan (duh!) but It's just weird and bizarre. For now I can imagine a song about a random situation, of a girl who likes Hello Kitty, who is like Hello Kitty. I don't think it's a song ABOUT Hello Kitty. Let's hope it.

Ok. Calm down. Hello Kitty is just one song of many. There are others melodies that they wrote together (Avril, Chad and David) and now we can know the titles. Friendly reminder: almost one year ago they reunited to write new music and love was born, through the music, as they say.

So far, eleven tunes written by this trio (of course for Avril's upcoming album), a possibly duet and a cover song of How You Remind Me. Do you want to see the full list? Read the song titles below. I never posted it on @Nickelbackers so I'll publish here, courtesy of Harry Fox Agency via Avril Bandaids:

THIS ONE'S FOR YOU

FLY

ECHO (Sounds good...)

SECRET

WHAT YOU LIKE

THIS MUST BE LOVE (Awww)

TIME GOES BY

OUR LITTLE SECRET (Many fans think it could be the 'duet song', maybe?)

IT'S NOT OK

BAD GIRL

AND THE INFAMOUS SONG...

HELLO KITTY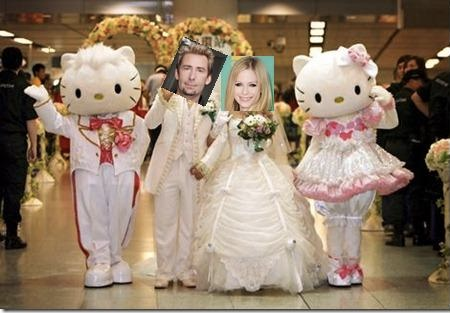 To get official info, enter to this link and search by the title or just writing "Avril Lavigne"
http://www.harryfox.com/songfile/public/publicsearchresults.do
(Go to the end of the page and push on accept. If the link doesn't work, refresh until it opens)

Any thoughts about the story behind Hello Kitty? (Can't wait to hear it! haha) What about the other ones?

And finally... Hey, hey, Is Chad a wannabe rockstar?